Top > Company
Greeting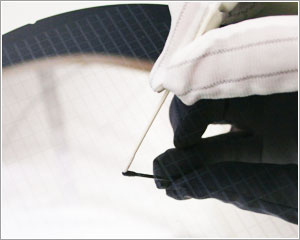 CLEAN CROSS CO.,LTD. was established on April, 2005 as the sales company of HUBY -- cotton swab for industrial use made by SANYO CO., LTD. -- the major cotton swab manufacturer in Japan.
Mainly "HUBY" is used in the applications in the plants of HDD and LED, recognized as the top brand in the nations of not only Japan but also China, Thailand, Philippines, Taiwan, Korea, USA, and Europa.
Contribution for value added improvement with sales,
manufacturing, development, quality assurance department for hearing diversified customer requirement.
Nowadays, especially in China and East South Asia, requirement for "High quality made in Japan" cotton buds for consumer use has beenincreasing, we as a professional trading company wish to delivery "peaceful mind / safety" and "comfortable time" to their families as much as possible with our capabilities and know-how.

President Hiroshi Nakatani
HUBY brand

The derivation of "HUBY" brand is "HUGE PROBABILITY".
With HUBY brand, we have been developing new products to meet our customer's ever-changing needs with technical innovations in our production line.At the present time, "HUBY" = "cotton swab for industrial use" is rated as high quality and secure product by end-users from all over the world.
From now on, with our continuous intension to contribute to the companies with not only "HUBY" but also value added "clean room consumable product" to the all over the world. with are pleased to say as a product of "cotton swab for industrial use" equal "HUBY" from end users evaluation for all over the world.

company overview
Corporate name
CLEAN CROSS CO.,LTD
President
Hiroshi Nakatani
URL
https://www.cleancross.net
Address
2-3-28, Wakamatsucho0higashi, Tondabayashi, Osaka, 584-0023,JAPAN

TEL
(+81)-721-20-0120
FAX
(+81)-721-20-0278
Capital
JPY 9million
Business activities
The exclusive sole agent of HUBY-340/HUBY-APEX --
cotton swab for industrial use for national and international.
The export agent of cotton buds produced by SANYO.
Development of cleanroom materials.
Import, export and domestic sales of cleanroom consumables.

associated company
| | |
| --- | --- |
| Corporate name | SANYO CO., LTD |
| Chairman | Hiroshi Nakatani |
| President | Tsutomu Hibi |
| Address | 2-2-6, Nakanocho-higashi, Tondabayashi, Osaka, 584-0021, Japan. |
| TEL | (+81)-721-24-3376 |
| FAX | (+81)-721-24-9145 |
| Inauguration | April 1967 |
| Foundation | May 1980 |
| Capital | JPY 60million |
| Business fields | Manufacturing and selling cotton buds for general use, medical, cosmetic, cotton swab fro industrial use and balls. |
| Machines equipped. | Production machines for cotton swabs, cotton balls and packaging machines for cotton swabs and others. |
Access
2-3-28, Wakamatsucho0higashi, Tondabayashi, Osaka, 584-0023,JAPAN
TEL: (+81)-721-20-0120 FAX: (+81)-721-20-0278

Scroll map